---
---
MAY 2013 – Pamela Kofsky of Elegant Interior Designs won Honorable Mention for the Interior Design Awards in Philadelphia for Singular Residential Design. In this category, a total of 2 awards were given. Below Pamela shares the story of the design process, before and after photos along with the room layouts.
"My client dreamt of a new living room in her house that reflected a "club" like feel for entertaining.  The challenge was to create a whole new look on a limited budget while incorporating many of their heirloom antiques into the space.
The client felt that their room lacked personality, with the stark white drapery and tired-looking furniture.  Everything fell into place, however, as I resolved which pieces to utilize.  In replacing the seating, I was able to warm up the space with custom upholstery and pillows.  New draperies, new paint, and window seating gave the "club" like feel the client yearned for.  By creating this new window area, I was able to eliminate clutter and provide additional seating.  This decorating project came down to editing and refreshing the space with new accessories.
The client was ecstatic.  The final product exceeded her expectations on all levels!" – Pamela Kofsky
BEFORE/AFTER VIEW: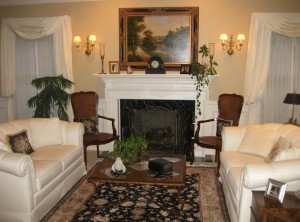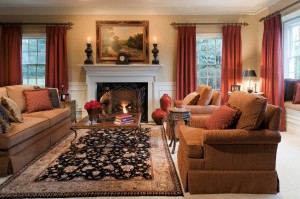 BEFORE/AFTER VIEW: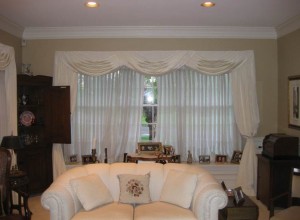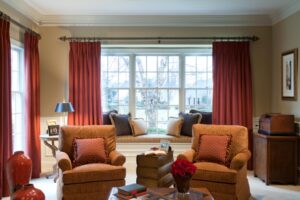 Floor Plans, Before & After:
Read More...
---
---
"Man Caves"
It's time to say goodbye to the good ol' fashion #1 Dad Coffee Mugs, Ties, and Golf Balls. Why don't you give him what he REALLY wants… a "Man Cave."
That's right a Man Cave. They come in all shapes, styles, accessories, and more.  What better way to improve living space and the quality of life than to have a place you can relax, entertain and spend family time or hang out with "the boys."
Did you check out the links to the left to show the possibilities of what a Man Cave can be? We don't expect you to pull it all off on your own, which is why we are here to help. Whether it's reworking a whole room, doing so on a tight budget, rearranging a disorganized mess or just picking the right color and wall art – design help is on the way!
Send us an inquiry email or call us directly for a consultation.
Tell us about your Hubby, Dad or Grad; or for those treating themselves your style and color preference. (Sports, Contemporary, Traditional, Movie Buff…)
Approximate Square Footage
Location of the Room or Space (Basement/Office/Garage/Outdoors)
Approximate Budget
Have a Photo on-hand? Email it.
Don't forget to enter your MANCAVE to our SUMMER ROOM MAKEOVER CONTEST.