BEFORE and AFTER: Living Room
---
---
MAY 2013 – Pamela Kofsky of Elegant Interior Designs won Honorable Mention for the Interior Design Awards in Philadelphia for Singular Residential Design. In this category, a total of 2 awards were given. Below Pamela shares the story of the design process, before and after photos along with the room layouts.
"My client dreamt of a new living room in her house that reflected a "club" like feel for entertaining.  The challenge was to create a whole new look on a limited budget while incorporating many of their heirloom antiques into the space.
The client felt that their room lacked personality, with the stark white drapery and tired-looking furniture.  Everything fell into place, however, as I resolved which pieces to utilize.  In replacing the seating, I was able to warm up the space with custom upholstery and pillows.  New draperies, new paint, and window seating gave the "club" like feel the client yearned for.  By creating this new window area, I was able to eliminate clutter and provide additional seating.  This decorating project came down to editing and refreshing the space with new accessories.
The client was ecstatic.  The final product exceeded her expectations on all levels!" – Pamela Kofsky
BEFORE/AFTER VIEW: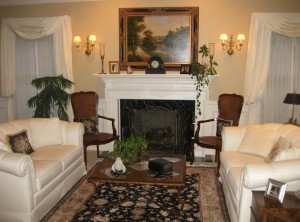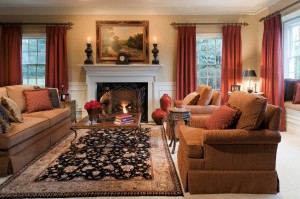 BEFORE/AFTER VIEW: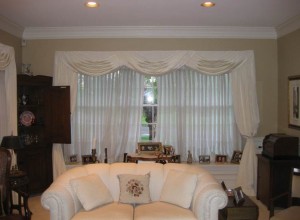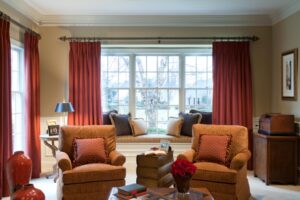 Floor Plans, Before & After: