The Design Story Behind the 2014 COTY Award
---
---
In 2013, I partnered with Tom Hawks, owner and contractor of Total Home Solution on the award-winning residential bathroom project. I wanted to share my design journey with the family and Tom to create this award-winning bathroom.
Elegant Interiors Designs' winning entry in collaboration with Total Home Solution involved a long checklist: double sinks, a vanity tower, a sitting area for hairstyling and make-up application, pocket shelves, a toiletry shelf, a larger shower with multiple shower heads, a soaking tub, and a separate room for the commode.  The design details were evident throughout the bathroom from the artwork to shades and even in the functional accent items in the pocket shelves.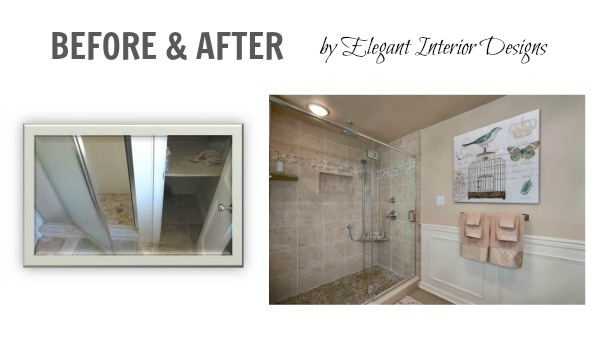 MASTER BATHROOM GUT & REDO
CLIENT: "Mr & Mrs H" a young ambitious married couple. After purchasing a new home 2 days after the BIG MOVE the bathroom remodel started.
TIMELINE: Mr & Mrs H had a baby on the way in a month. This created a firm deadline of fewer than 30 days.
CLIENTS MUST HAVE LIST: Lots of storage, sitting area at the vanity, his and hers basins, and a large mirror to accommodate two simultaneously.
CLIENTS WISH LIST: Pocket Shelves, Toiletry Shelf, Multiple Shower Heads, Large Shower Seat, Separate Room for Commode and a Soaking Tub.
BUDGET: Having just moved and a baby on the way Mr & Mrs H wanted to confirm before the project began there would be no surprises and that Tom and I could stay on budget.
MEETING THE CLIENTS' DESIGN NEEDS: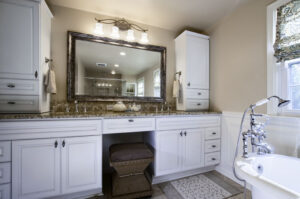 Vanity Storage: To meet the request of storage in the vanity design I used 2 tower storage cabinets and a set of drawers for the His & Hers sides. Details can be found in the hardware, vanity top, mirror design, and lighting fixture. To complete this space an ottoman with complementing rugs were added.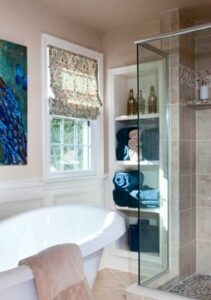 Pocket Shelves: With the collaboration with Tom the pocket shelves needed to be both functional and visually appealing in the space. The accessories highlight the use of the space.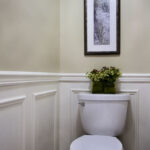 Separate Commode: Often time simple is the way to go when accessorizing a small space like the private commode.  In this case, it worked well in a combination of artwork and architectural elements of the wainscoting.
Cohesive Design: The success of a bathroom can be found in the details of the space. Selecting the tile, stone, wall color, and vanity pattern creates the foundation for the space.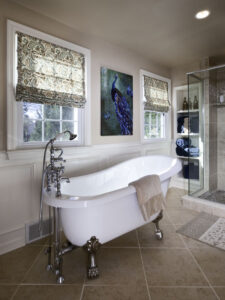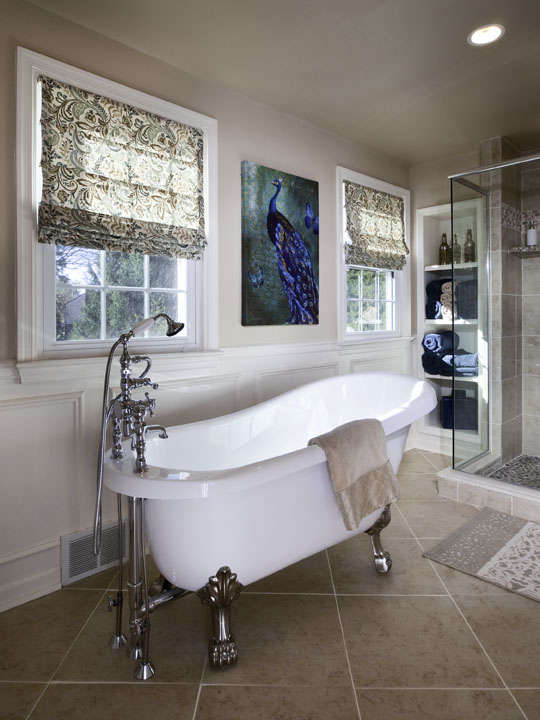 Accents: To complete the space artwork, custom roman shades, accessories, nonslip rugs, and towels were added.
Color Palette: The warm brown tones are accentuated with the backsplash and the use of the listello decorative border in the shower. The warm earthy tones are accented with the contrasting blues seen in the art and pocket shelf accessories. White cabinets & plumbing fixtures with chrome and brushed nickel finishes are offset by earthy natural warm vanilla, beige and brown tones in the granite countertop & shower seat.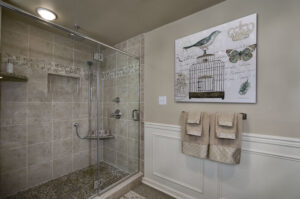 [The National Association of the Remodeling Industry (NARI) named Elegant Interior Designs in Ambler, PA the 2014 Northeast Regional Contractor of the Year (CotY) for her collaboration in the Residential Bathroom, $30,000-$60,000 category of its annual awards competition.]