---
---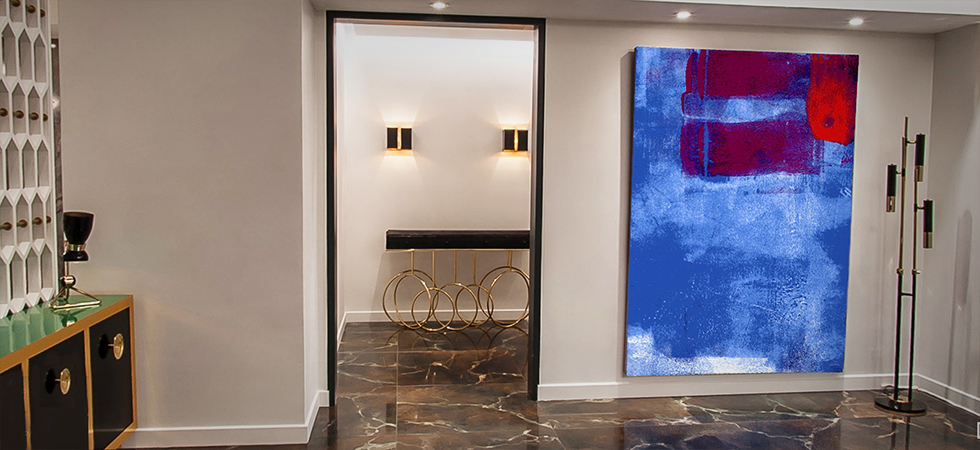 Burlesque Table
Fifty Shades of Grey paints an opulent portrait of a steamy sexual relationship, but you don't have to desire your own "red room" to incorporate some of Christian Grey's lavish lifestyle choices into your personal space.  The fact is, just about all the décor you see in the industrialist's lofty apartment is available from Elegant Interior Designs and can help set the right mood for romance.
A sensual space arises from a combination of furnishings, fabrics, art, layout, lighting, and colors.  Curved lines, like those of the Desire Sofa and Chair seen on-screen, can evoke the contours of the human body and deliver comfort, visual appeal, and a sense of extravagance.   Circles and amorphous shapes, maybe best illustrated by Grey's Burlesque Table subliminally promote a free-flowing environment…one in which anything can happen.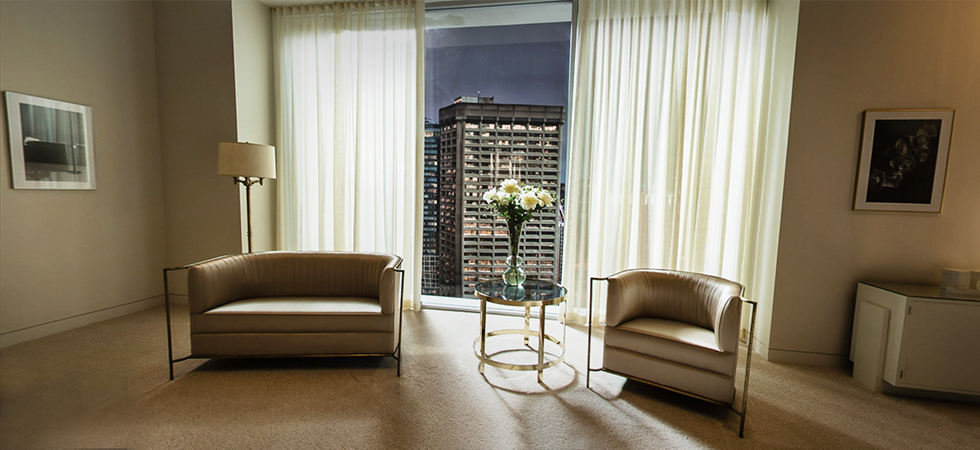 Desire Sofa & Chair
Lighting, for its part, should be provocative rather than harsh, and if you can dim those lights, all the better.  Strategically placed floodlights and accent lights can create a climate conducive to seduction while putting the focus on other design elements.  Decorative sconces, such as the ribbon-like Chloe sconce seen in the film, can also add a dramatic flair to a subtle form of lighting.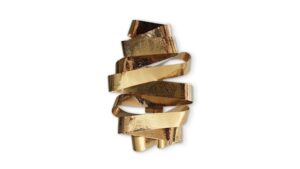 Chloe Sconce
And dark, tasteful colors can provide aristocratic elegance to any space.  Grey is the new black, and shades of gray can create a mood that no white can duplicate.  Greys also make a dramatic backdrop for colorful art and other decorative pieces.
Vivre Sconce
Finally, don't let your desire for desire overshadow your personal tastes.  Your style might run toward the flamboyant – like Christian Grey's eye-catching Guilt Mirror – or the more staid, epitomized by the Sinful Cabinet.  You might go for spare seductiveness, embodied by the Exotica Dressing Table seen on-screen, or something more statement-making like the hexagonal Hypnotic Chandelier.  Other Grey-like pieces that can inject your individuality include the captivating, industrial Vivre Sconce or the nature-evoking Sequoia Table.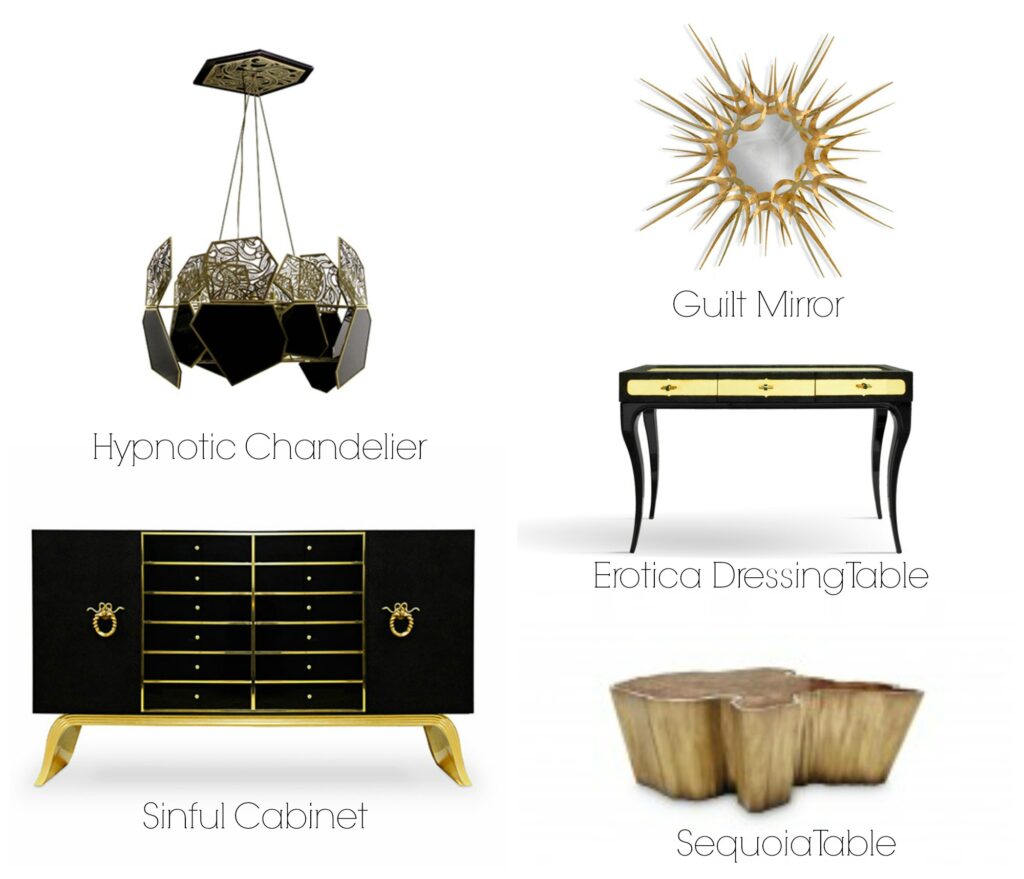 Most of us aren't kinky titans of business, but you can implement these design choices; all you need is a romantic's sensibility and an eye for things that make you feel good.  Many of the furnishings seen in the film are also available in a variety of fabrics, colors, or materials, so you're not bound by some Hollywood set decorator's vision of sensuality.
Of course, a creative designer can help you put it all together.  And if you just have to have that exact piece you saw on screen, Elegant Interior Designs can help with that too.
---
---
No Kids? Why not treat yourself to a modern upgrade? 
Is your master suite is stuck in the 70s, 80s, or 90s? If you have waited long enough your bedroom might be back in style but it might be time to update the textiles in the room. Yes, you can work with existing furniture in your room and still have a successful makeover.  Focus on items that wear or may be outdated. Consider alternating existing room features: from wallpaper to paint, carpet to hardwood, floral to patterns, and mirrors to framed art.  Don't forget new linens, new wall color and finish, wall art, accessories, and even refinishing your furniture with a lighter or darker finish.
Tips for Getting Started:
 Keep vs. Sell/Donate
 Create a Color Palette
 Furniture Placement/Room Layout
 Flooring vs. Carpet
 Wallpaper vs. Paint
 Things to Consider:
  Lighting and Room Ambience – Softer Lights Work Well
 Explore Window Coverings, Shades, and Blinds to Control Morning & Evening Light
 Is there room for a sitting area or an extra room to convert to a sitting area?
 Can you maximize natural light in your room?
Remember: A bedroom is meant to be a place of rest and comfort.
For Kid's Room Ideas Check out our Kids Room Blog!
** Need help getting started? Seek Professional Help and you can Enter the Summer Room Makeover Contest!
---
---
Believe it or not, another school year is just around the corner. As time flies and you may be realizing that your kids are all grown up.  Maybe the dinosaur, trains, or space-themed bedroom is outdated, especially now they are entering middle school.  Below you will find tips for updating any bedroom space. Remember when it comes to your child's room trends come and goes quickly. If you are selecting a theme choose carefully unless you are OK with constantly updating the room to fit the age range.
 Tips for Kids' Bedroom Makeover:
 Bold Colors
 Shapes
 Patterns
 Customized Wall Decals (Removable)
 Window Treatments
 Reversible Comforter
For Master Suite Ideas Click Here
** Need help getting started? Seek Professional Help and you can Enter the Summer Room Makeover Contest!