---
---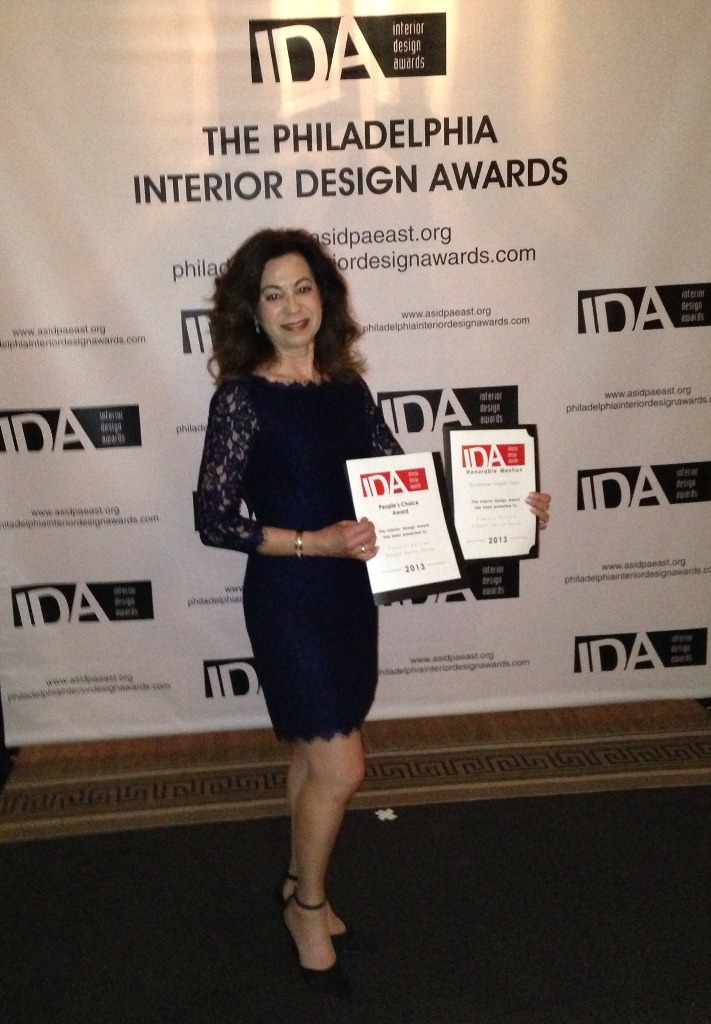 May 10, 2013, Philadelphia, PA – Pamela Kofsky of Elegant Interior Designs won two Interior Design Awards, Honorable Mention Award in the Singular Space Category and the People's Choice Award at the 3rd Annual Interior Design Awards hosted by the Pennsylvania East Chapter of the American Society of Interior Designers (ASID).
The IDA's are Philadelphia's only interior design competition open to all those involved in the design community, including Interior Designers, Architectural and Design Firms (commercial and residential), Kitchen and Bath Designers, and Interior Decorators with a total of 19 categories for entry. In a point system, each category had an opportunity for 1st place or Honorable Mention, however, not all categories had a winner.  There were a total of 59 entries and 14 designers/firms won awards.
Voting was conducted by a team of six industry professionals who evaluated all submissions based on a point system including before and after images, content, concept statement, supporting images, color composition, scale and proportion, effective use of lighting, materials, furnishings and detail, and overall project.
In a social media showdown for votes, tallying close to 700 votes each, Pamela Kofsky also won the People's Choice award along with Edwardo Ardiles of Studio Edo.  The competition for this category was so close and votes were still coming in at the last hour.  The judges decided that both designers deserved to win the "People's Choice" Award.
Want to see the transformation of Pam's winning design, click here.
---
---
Coty Press Release 2011
Elegant Interior Designs, Named Local Winner in the 2011 Contractor of the Year Awards sponsored by the National Association of the Remodeling Industry!
January 29, 2011 – Manor House, Horsham, PA — Elegant Interior Designs of Ambler, PA, wins the 2011 Meritorious Contractor of the Year Award in the Residential Exterior Specialty category.  Awards are part of an annual competition held by the National Association of the Remolding Industry (NARI) that showcase members who have demonstrated outstanding work through their remodeling projects.
The Contractor of the Year (COTY) AWARDS IS WIDELY CONSIDERED THE PREMIER COMPETITION OF ITS KIND THROUGHOUT THE REMODELING INDUSTRY.   To be considered, a company must be a NARI member and adhere to the NARI strict code of ethics.  NARI members represent an exclusive group from the approximately 800,000 companies and individuals in the U.S. identifying themselves as premier remodelers and builders within the industry.
An impartial panel of judges, who are considered experts within the industry and associated fields, selected winners based on each entrant's "Before and After" photography and project description.  Judging was based on problem-solving, functionality, aesthetics, craftsmanship, innovation, degree of difficulty, and entry presentation.
Pamela Kofsky, President, states that she is "honored and excited to be recognized by such an elite organization." Elegant Interior Designs' winning entry began with a run-down, poorly utilized, dysfunctional deck that was overhauled to create a stunning outdoor living space, complete with a conversational seating area, fire pit, dining and cooking area, and pergola.