---
---
In September 2013, Elegant Interior Designs will celebrate 10 years in business! It has been an amazing ride with both challenges and triumphs. Thanks to loyal clients, family, friends and technology for your support.  Below is a brief look back on a few milestones from the last 10 years.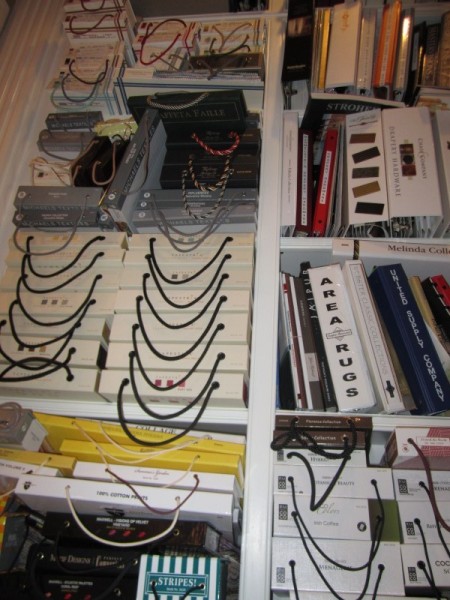 In 2003, I officially opened the doors to Elegant Interior Designs and began solving your interior design dilemmas.  Since then I have built an amazing library of fabrics and samples in my design studio, allowing my clients to see and feel the fabrics and trims for window treatments, pillows, furniture and more.
Today the samples are available and fill the floor to ceiling bookshelves in my design studio, see photo to the left.
TECHNOLOGY
Technology has had a huge impact on my business personally. In 2011,  my website had a complete overhaul, www.elegantinteriordesigns.com and I started a Design Blog.  My goal is to stay connected with my clients and prospects, offering ideas and inspiration to transform their house into a home. I utilize Social Media extensively and now have a presence on Facebook, LinkedIn, Twitter, Pinterest and Houzz.
We have a window design software program that allows you to preview your treatment selection before it is made and installed. Learn more about this window treatment service.
TRAVELS
Attending High Point Market in North Carolina is like the Fashion Week of the fashion world and NYC's Architectual Digest Home Design Show 2013. I have also visited places in Canada, Europe and NYC where I was able to source amazing one of a kind options for my clients from antiques to ultra modern design peices.  Keep an eye on the blog for photos and stories from my travels.
GETTING INVOLVED
In my networking efforts I have met some amazing referral sources, clients, friends and industry professionals. Currently, I'm on the Board of Directors of NARI and Chair the Programming Committee; also a proud supporter of the following organizations over the last 10 years:  IFDA – International Furnishing & Design Association, WCAA – Window Coverings Association of America,  and Women's Philanthropy – Jewish Federation of Greater Philadelphia, also a Board Member.
AWARDS
A few of my designs have received attention from the media, international industry magazines and even won awards. You can read all about it in our NEWS section or go right to the award blogs for the COTY Award and the IDA Award.
Looking back it has been an amazing 10 years! A warm heart felt THANK YOU goes out to each of you for your support, encouragement, business, referrals, social media LIKES, comments and for reading this post, without you I would not be here today. I look forward to what the next 10 years will bring.
– Pamela