How to Create a Romantic Ambiance
---
---
The month of February is the perfect time to take a break from your busy schedule and celebrate with your loved ones. Romanticizing your living space is ideal for setting the right mood.  Here are a few tips for making the perfect ambiance for you and your Valentine.
The pictures below display Pamela Kofsky's Valentine's Day themed work for a benefit at the Marketplace Design Center in Philadelphia.  As you can see, Pamela incorporated all the tips suggested to make a decadent table setting.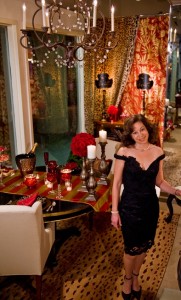 Lighting
Setting the lights on a dimmer will create a more romantic ambiance.  Add tealights, votive, pillar and tapered candles to your table to create an enchanted look.   This will create sensual lighting which will provide mood enhancement to accompany your romantic meal.
Table
Think of setting the table as setting the color.  Incorporate a lot of red since this evokes the most emotion associated with love,  warmth, excitement and energy. Red also is a stimulant, giving your delicious  meal a little more desire.  Don't forget to include flowers on the table.
Place Setting
Using textures like ruffles, satin, embroidery, and soft fabrics give  the senses more of a dining experience. Accent plates can enhance a place setting along with place mats, cloth napkins, crystal and elegant silverware and dinnerware.
Want further interior design tips and decorating ideas for a flawless intimate setting? Call Pamela Kofsky, founder and designer of Elegant Interior Designs for a consultation.